Unshackled
In This Talk:
Gene McGuire grew up in northeast Pennsylvania. At 17 years old, he was a successful student athlete but was hindered from his potential because of his consistent alcohol consumption. (1:09)
One night, while at a bar with his older cousin and step-brother, his cousin decided to rob the establishment. He ended up stabbing the owner to death in the process. (1:53)
The three men ran to New York City before Gene decided to turn himself in to the authorities. He was arrested for murder and plead guilty. He was then sentenced to life in prison without the possibility of parole. (2:59)
While in prison, Gene got his GED and a college education. He met with counselors but still couldn't figure out how to deal with the guilt, shame, and pain of his decisions. (4:28)
About six years into his sentence, Gene began dealing drugs in prison. (5:20)
Gene encountered Christian inmates serving life sentences and questioned what made them so different from himself. (6:45)
Nine and a half years into his sentence, Gene was invited to a weekend revival service held in the prison chapel. While there, he heard the Gospel and encountered the love of God through the ministers. (7:35)
On the second night, while trying to avoid conversation, Gene met a man named Larry Titus who made him realize that he wasn't where he was supposed to be in life and made himself available to Gene whenever needed. (12:22)
On the final morning of the revival meeting, Gene finally made a commitment to the Lord. In that moment, he felt a weight lift off his shoulders and he felt free from the chains of his past. (13:55)
Gene began to read the Bible and to seek forgiveness from those in the prison he had hurt. (15:10)
Larry Titus began to visit Gene every week. He would teach him and encourage him to memorize scripture. (16:06)
Eleven years into his sentence, Gene was denied a commutation. He filed again a year later and was denied. Through it all, he continued to praise the Lord, knowing that He had a plan for his life. (16:44)
Through the process of rejection, Gene learned how to be a servant like Christ. He began serving everyone he came in contact with. (18:06)
God healed the hurt in Gene's heart towards his biological father. This allowed him to understand and accept God as his Heavenly Father. (21:04)
About 20 years into his sentence, Gene befriended a man named Orlando. He began teaching him scripture and guiding him in his walk with Christ. Years later, Orlando would look up to Gene as a spiritual father of his own. (23:06)
32 years into his sentence, Gene was denied for commutation for a final time. This time, however, while crying out to God, he heard Him say, "I'm going to release you, but not based on your effort." From that moment on, Gene went back to faithfully serving in the prison. (27:30)
Two years later, Gene found himself back in the same courtroom in which he was originally sentenced. There, he was finally released and unshackled. (28:51)
Gene moved to Dallas and began working for Larry Titus and Kingdom Global Ministries. He has since become the chaplain for a large, family-owned restaurant where he has the opportunity to witness to over a thousand young people. (32:57)
Series Information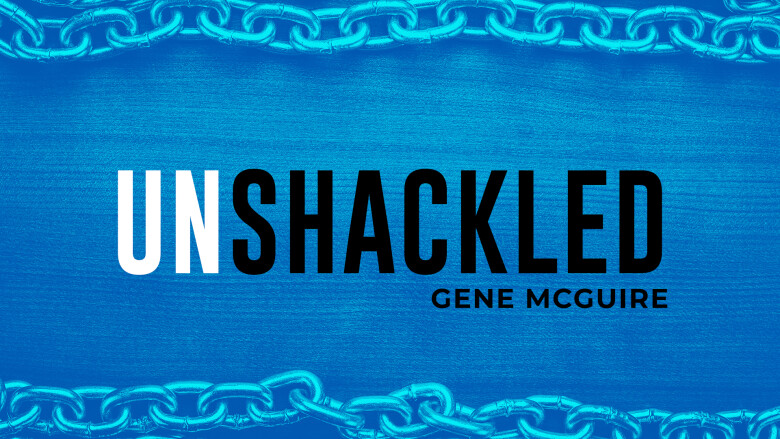 Gene McGuire shares his powerful testimony of freedom through Christ.